Drug Testing West Thumb WY
Local Drug & Alcohol Testing Centers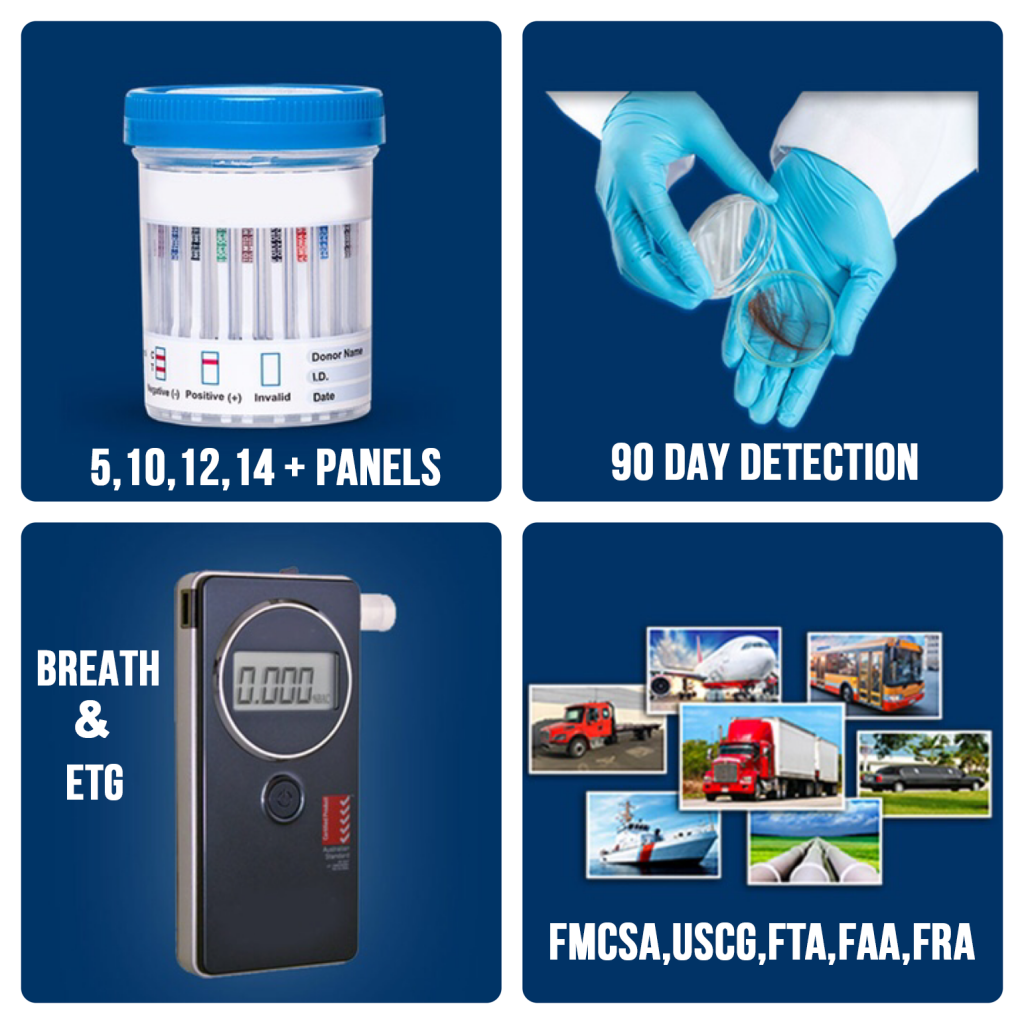 Accredited Drug Testing in West Thumb WY provides same day drug testing, alcohol testing, DOT physicals, DOT drug testing and DNA testing at locations in West Thumb Wyoming and the surrounding area. Drug and alcohol testing services are provided for employers in need of a pre-employment, random and post accident test. As well as individuals needing a test for court ordered, probation or family purposes. Same day service is available and testing centers are within minutes of your home or office.
Tests are administered utilizing urine, oral/ saliva, hair follicle, blood, ETG and breath alcohol. Negative test results are generally available as fast as 24-48 hours.
To schedule any type of drug test at our West Thumb locations, call our scheduling department at (800) 221-4291. You can also schedule your drug test online utilizing our express scheduling registration by selecting your test and completing the Donor Information/Registration Section. You must register for the test prior to proceeding to the testing center.
The zip code you enter will be used to determine the closest alcohol drug testing center which performs the type of test you have selected. A donor pass/registration form with the local testing center address, hours of operation and instructions will be sent to the e-mail address you provided. Take this form with you or have it available on your smart phone to provide to the testing center. No appointment is necessary in most cases. However, you must complete the donor information section and pay for the test at the time of registration.
Our laboratories are SAMHSA certified and all test results are verified by our in house licensed physicians who server ad Medical Review Officers.
Urine or hair testing methods – you choose!
Accredited Drug Testing offers different testing methods depending upon our customers needs. With a 1 to 5 day detection period urine testing is the most common method used by employers, courts and schools. However, hair drug and alcohol testing is becoming a frequently used testing method due to a detection period of Court Ordered Drug Testing (Probation/Child Custody)

Our local West Thumb Wyoming drug testing centers provide drug and alcohol tests that are utilized for a wide variety of court ordered proceedings, including probation and other types of government required tests. Observed tests are available and tests results can be submitted for a wide variety of court ordered proceedings including probation hearings, child custody cases, litigation and all manner of government required tests.
Court Ordered Drug Testing (Probation/Child Custody)
Our local West Thumb WY drug testing centers provide drug and alcohol tests that are utilized for a wide variety of court ordered proceedings, including probation and other types of government required tests. Observed tests are available and tests results can be submitted for a wide variety of court ordered proceedings including probation hearings, child custody cases, litigation and all manner of government required tests.

Court ordered drug tests should contain detailed instructions specifying the type of test to be administered and the drugs that should be screened for. If sample collection needs to be witnessed in order to prevent potential tampering or substitution, those specifications will be stated in the court order.
DOT Drug and Alcohol Testing Services in West Thumb
We also specialize in providing testing services for all DOT Modes including Trucking Industry (FMCSA), Maritime Industry (USCG), Aviation Industry (FAA), Public Transportation (FTA), Railroad Industry (FRA) and Pipeline Industry (PHMSA) in accordance with Part 40 of the US Department of Transportation Compliance Regulations. Additional DOT Services include consortium enrollment, MVR reports, Supervisor Training and policy manual development. In addition we offer a complete DOT Compliance Program for single operators and small trucking companies.

Additional DOT Services:
Consortium Enrollment
Supervisor Training
Employer Drug Policy Development
MVR Reports
Employee Training
Background Checks
Drug Testing Locations in West Thumb WY
Our drug testing locations in West Thumb WY have certified and trained drug testing specialists ready to serve your testing needs in a friendly, knowledgeable and confidential manner.

Drug testing purposes for employers include pre-employment, random selection, post-accident and reasonable suspicion. Testing purposes for individuals can include court ordered, probation, child custody or for any other personal reason.

Accredited Drug Testing is a nationwide drug testing company in West Thumb WY specializing in Drug, Alcohol, DNA testing. DOT Physicals and Background Checks.

On the road or vacation? No worries! We can schedule your test, ANYWHERE, ANYTIME!

Drug test screening groups commonly used are a 5 panel, 10 panel and 12 panel drug test, (panels specify how many drugs will be screened) however customized screening can be analyzed for drugs such as opiates, bath salts, synthetic cannabinoids and a wide range of prescription drugs.

Accredited Drug Testing in West Thumb WY also provides customized drug testing for synthetic marijuana, Ketamine, spice, kratom, bath salts and various opioids including Fentanyl, Oxycodone, Vicodin, Percocet, and others. Prescription drugs can be screened including Adderall, Ritalin, and Suboxone with levels reflecting usage.

A drug test is a technical analysis of a biological specimen, for example urine, hair, blood, breath, sweat, and/or oral fluid/saliva-to determine the presence or absence of specified parent drugs or their metabolites. Major applications of drug testing include detection of the presence of performance enhancing steroids in sport, employers and parole/probation officers screening for drugs prohibited by law (such as cannabis, cocaine, methamphetamine, and heroin) and police officers testing for the presence and concentration of alcohol (ethanol) in the blood commonly referred to as BAC (blood alcohol content). BAC tests are typically administered via a breathalyzer while urinalysis is used for the vast majority of drug testing in sports and the workplace. Numerous other methods with varying degrees of accuracy, sensitivity (detection threshold/cutoff), and detection periods exist. A drug test may also refer to a test that provides quantitative chemical analysis of an illegal drug, typically intended to help with responsible drug use.

Providing exceptional customer service and being available when you need us for drug testing in West Thumb WY, is our #1 Priority and we look forward to serving the needs of our clients.
Drug Testing Locations in West Thumb WY
(Don't see a location near you? Call us (800) 221-4291)



Geothermal areas of Yellowstone
The geothermal areas of Yellowstone include several geyser basins in Yellowstone National Park as well as other geothermal features such as hot springs, mud pots, and fumaroles. The number of thermal features in Yellowstone is estimated at 10,000.[1] A study[2] that was completed in 2011 found that a total of 1,283 geysers have erupted in Yellowstone, 465 of which are active during an average year. These are distributed among nine geyser basins, with a few geysers found in smaller thermal areas throughout the Park. The number of geysers in each geyser basin are as follows: Upper Geyser Basin (410), Midway Geyser Basin (59), Lower Geyser Basin (283), Norris Geyser Basin (193), West Thumb Geyser Basin (84), Gibbon Geyser Basin (24), Lone Star Geyser Basin (21), Shoshone Geyser Basin (107), Heart Lake Geyser Basin (69), other areas (33). Although famous large geysers like Old Faithful are part of the total, most of Yellowstone's geysers are small, erupting to only a foot or two. The hydrothermal system that supplies the geysers with hot water sits within an ancient active caldera.[3] Many of the thermal features in Yellowstone build up sinter, geyserite, or travertine deposits around and within them.

The various geyser basins are located where rainwater and snowmelt can percolate into the ground, get indirectly superheated by the underlying Yellowstone hotspot, and then erupt at the surface as geysers, hot springs, and fumaroles. Thus flat-bottomed valleys between ancient lava flows and glacial moraines are where most of the large geothermal areas are located. Smaller geothermal areas can be found where fault lines reach the surface, in places along the circular fracture zone around the caldera, and at the base of slopes that collect excess groundwater.[3] Due to the Yellowstone Plateau's high elevation the average boiling temperature at Yellowstone's geyser basins is 199 °F (93 °C). When properly confined and close to the surface it can periodically release some of the built-up pressure in eruptions of hot water and steam that can reach up to 390 feet (120 m) into the air (see Steamboat Geyser, the world's tallest geyser).[4] Water erupting from Yellowstone's geysers is superheated above that boiling point to an average of 204 °F (95.5 °C) as it leaves the vent. The water cools significantly while airborne and is no longer scalding hot by the time it strikes the ground, nearby boardwalks, or even spectators. Because of the high temperatures of the water in the features it is important that spectators remain on the boardwalks and designated trails. Several deaths have occurred in the park as a result of falls into hot springs.

Prehistoric Native American artifacts have been found at Mammoth Hot Springs and other geothermal areas in Yellowstone. Some accounts state that the early people used hot water from the geothermal features for bathing and cooking. In the 19th century Father Pierre-Jean De Smet reported that natives he interviewed thought that geyser eruptions were "the result of combat between the infernal spirits."[5] The Lewis and Clark Expedition traveled north of the Yellowstone area in 1806. Local natives that they came upon seldom dared to enter what we now know is the caldera because of frequent loud noises that sounded like thunder and the belief that the spirits that possessed the area did not like human intrusion into their realm.[6] The first white man known to travel into the caldera and see the geothermal features was John Colter, who had left the Lewis and Clark Expedition. He described what he saw as "hot spring brimstone." Beaver trapper Joseph Meek recounted in 1830 that the steam rising from the various geyser basins reminded him of smoke coming from industrial smokestacks on a cold winter morning in Pittsburgh, Pennsylvania. In the 1850s famed trapper Jim Bridger called it "the place where Hell bubbled up."[3]




"When You Need a Test, Choose the Best"
DNA Testing in West Thumb WY
reviewed by
Clara G.
on
Aug 12
.
Awesome Site!
Thank You for building such a wonderful resource. I was able to get more info on the different DNA testing in my area and find one that fit my needs. They even gave me a chance to apply for a Drug Test which will make things much easier.
Rating: